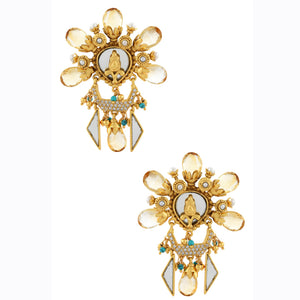 These earrings are handcrafted in Sterling Silver (925) with 24kt gold plating with glass, turquoise, pearls, mirrors and citrine stones.
The design of the earrings are inspired by the joyfulness of sunflowers with a bright Shine.
Many of our  jewellery pieces are handcrafted and use natural semi precious stones. As a result each piece is unique and may have slight colour or design variation from the image on our website.